Main features Of English Bulldogs
You can subscribe for our FREE NEWSLETTER, which we have created for our loyal customers and those who joined us later, right here on this page! This is an archive of all sent Newsletters, which will help you not to miss interesting information about your breed and some opinions from experienced breeders. Join us and you will definitely know more about your beloved doggie!
Did you know that English Bulldogs are one of the most loveable breeds in the canine world, but the main problem is that most people just have the wrong ideas about them, thinking of them as too violent, destructive and even not trustworthy.
None of these are true of course, but let's learn some important facts about English
Bulldogs in order to understand them and to get a better picture of these beautiful
The name English Bulldog comes from the 16th century, when these dog breed
was used to torture bulls as part of a "game" that was common in England at the
time. This game was banned in the 19th century for being considered brutal. After
that, the English Bulldog was breed to be a companion dog.
Despite their size and appearance, English Bulldogs are one of the most active
breeds out there, and need constant walks in the park, as well as other physical
activities (though they cannot stand heat for too long).
Loyalty is a trademark of English Bulldogs, which makes them the perfect
guardians of both the house and of his owners.
The bulldog is also one of the unofficial symbols of the UK. Bulldogs are also popular images in the mass media, particularly in cartoons, and as US university sports team mascots.
These are just but a few of the many aspects that make English Bulldogs one of the most
lovable canine breeds. So, if you want to know more about English Bulldogs, just ask any
experienced breeder and be ready to be pleasantly surprised by the many traits that this
breed holds.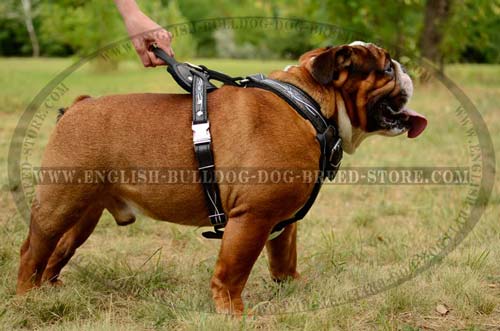 Check this Barbed Wire Painted English Bulldog Leather Harness
Cool Leather Dog Collar With Spikes and Studs

Our products meet the highest standards of quality and safety. Particularly this Amazing Leather Dog Collar will make your dog's daily walking super comfy and safe. Only the best hand-selected leather was used to make this collar. Our craftsmen hand-set each piece of decorations. Your dog's neck will look spruce.
---